Originally published in Mirror Review 04/30/20
"Driver Risk Management" is the topic of the hour, due to the ongoing changes such as the increase in traffic volumes, change in traffic rules, advancement in vehicle technologies, evolvement in social trends such as dependency on social media, the 'addiction' to smartphones, advances in mobility options and changing workforces. Fleet safety and risk management principles overlap at their core – the avoidance of incident, collision and injury to the driver! To successfully manage driver safety, it is critical that the program incorporates a risk management approach that considers the causes of incidents and collisions, as well as strategies to avoid them from happening in the first place.
Launched in 1996, eDrivingSM helps organizations to reduce collisions, injuries, license violations and total cost of fleet ownership through a patented driver risk management program. eDriving's most recent innovation, 'Mentor by eDriving' analyzes driver behaviors most predictive of crash risk and helps remediate risky behavior by providing engaging, interactive micro-training modules delivered directly to the driver via their smartphone. A "closed-loop" risk management approach is at the heart of everything eDriving does and is the backbone of Mentor. Mentor turns the smartphone from culprit to cure, utilizing the very product responsible for driver distraction – one of the biggest threats on the road today – to help prevent it.
Understanding Risky Behavior
Mentor uses the telematic sensors available in iOS and Android smartphones to collect and analyze data on the driving behaviors most predictive of risk. These include Acceleration, Braking, Cornering, Speeding, and Phone Distraction. As a result of eDriving's partnership with industry analytics leader FICO®, the driver on-road performance is converted into an individual FICO® Safe Driving Score, which has been validated as being able to predict the likelihood of crash involvement. Mentor delivers personalized insights to drivers and managers after each trip, showing both positive and negative driving events and exactly where they occurred, for the driver's eyes only.
Mentor delivers interactive, engaging micro-training modules directly to the driver within the app itself to help remediate risky driving behaviors. The duration of training videos is 3-5 minutes including core topics delivered to all drivers, as well as targeted training based on driver performance. The aim of Mentor is to promote a crash-free culture. It is designed to attack the '94% problem' namely, as 94% of collisions are caused by a driver's attitude and behavior behind the wheel. Mentor helps drivers understand their risky behaviors, and ultimately make the right choices when faced with decisions behind the wheel, leading to fewer collisions, injuries and license violations.
Internationally Recognized Standard
Mentor is part of a broader risk management platform, Virtual Risk Manager® (VRM). This provides organizations with everything they need to establish safety as a strategic imperative. The first stage in the VRM program is establishing a crash-free culture, which involves securing the commitment of leadership to ensure the safety 'virus' is spread company-wide. eDriving holds ISO 27001, an internationally-recognized standard that defines best practice for an information security management system. The company first achieved the standard in 2014 and attained re-certification in 2019, demonstrating that it continues to have a robust and comprehensive information security management system that meets the highest standards for protecting client information.
I practice what I preach!
In March 2016, Ed Dubens joined the eDriving executive team with eDriving's acquisition of Interactive Driving Systems. As Founder and CEO of Interactive Driving Systems, he led the team at the forefront of research and innovation in the field of road safety and culture change strategies. Ed's commitment, dedication, and desire to ensure that every at-work driver makes it home to their communities and loved ones every day is infectious, and every single person that works at eDriving gets up in the morning with this shared passion. This particular culture is the very reason for the company's success. At every touchpoint that its clients have with them, they know that the safety of their employees is the reason it does what it does. eDriving becomes a part of the team, sharing the same goals and focusing on the same mission. At the same time, the clients know they can trust the company with their data and personal information; a critical concern for fleet operators.
Under Ed's leadership and with the tireless efforts of the dedicated team members, VRM to date has trained over a million fleet drivers and enjoyed the privilege of working with some of the world's most successful businesses, including BT, Nestlé, Zurich, Cummins, Pfizer, Siemens, Johnson & Johnson, Mondelez, GSK, Merck & MSD, Transport for London, ASDA (Wal-Mart), Liberty Mutual, Roche, TNT, Sanofi, AON, Iron Mountain, McCain, Royal Mail, and many more. Furthermore, over the past 25 years, eDriving's research-validated programs have been recognized with over 90 awards around the world. Adding more feathers to its crown, it is the driver risk management partner of choice for many of the world's largest organizations, supporting over 1,000,000 drivers in 96 countries.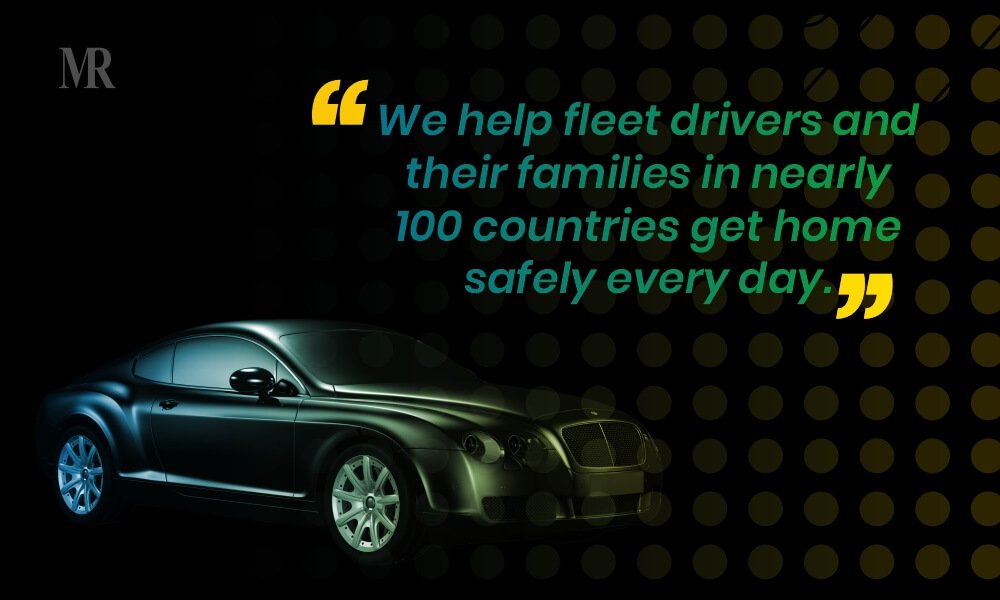 Effective Today As Well As In The Future
In a nutshell, in the coming future, transportation will progress further into a hybrid period in which human-operated and autonomous cars co-exists, and in which at-work mobility is evolving to incorporate 'on-demand' travel options such as ride-hailing, bicycling, car-sharing and more. The environment for at-work drivers is set to change beyond recognition. While it is critical for risk management companies to evolve and keep up with the future challenges drivers are facing, eDriving's patented closed-loop approach to risk management will remain as effective in the future as it is today. The world can become a safer place to drive by instilling a crash-free culture in companies and improving the attitudes and behaviors of drivers to avoid incidents from happening.
This year, eDriving launched Mentor TSP (Telematics Service Partner) that enables organizations with an existing telematics solution to incorporate Mentor to provide one unique risk management approach. It means that data collected through hard-wired telematics devices including idling, seat belt use, MPG and reversing behaviors can be combined with Mentor's behavioral insights to create a richer driver risk profile. Mentor VISION will add inward- and outward-facing camera options to further enhance the risk and claim management functionality of the Mentor eco-system that reacts to the FICO® Safe Driving Score behaviors triggered by the driver.